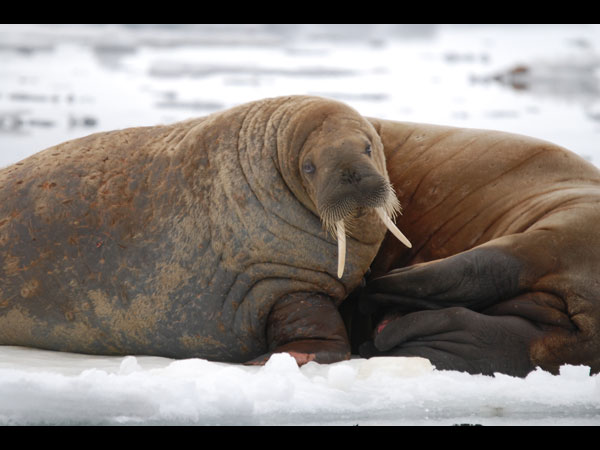 There was a brief period, between the Russian visa debacle and the other horrors of 2006, when I meant to go to Spitsbergen on the Watson.
This is presumably what it would have been like
:
Puffins, pink-footed geese, long-tailed ducks, ivory gulls, dunlins, king eiders, sanderlings, and red-throated divers shrieked and squawked around lime-stained fissures. It was startling to see species familiar in dowdy British winter coats resplendent in summer plumage. Gray phalaropes in Arctic carmine, snow buntings transformed from dusty slate into dazzling black and white, golden plovers with refulgent breast feathers.
I'd never heard of "ice blink":
Big wind-sock-shaped clouds hung in the sky below a layer of cirrostratus. Richard lay down to photograph ribs of driftwood. I picked among beluga tusks and rusted barrel hoops in the yard-high ice foot, a weak and unstable wall of ice and snow left on the shore when the winter sea ice broke up. We looked out for bears and listened to small waves slap the pebbles. Out in the open sea at the end of the fjord, a dazzling stripe on the underside of distant clouds mapped the sea ice. In a polar phenomenon called ice blink, clouds are lit from underneath by sunlight reflected up from a patch of pack ice in a contrasting dark area of water. When Nansen first came upon ice blink, he wrote, "I felt instinctively that I stood on the threshold of a new world."
The article also mentions the wild fluctuations in the numbers of barnacle geese in Spitsbergen; perhaps because the ecosystems are both younger and more sensitive, this appears to be a recurring theme. I remember hearing in Shetland five years ago that the population of
fulmars
had grown to almost dangerous levels.